In autumn 2015 we, Bert and Sjoerdtje Hut, have started with our new, small and in mediterrenean style builded Bed & Breakfast. It is situated near the border of both Germany and Netherlands.
Besides our ohter daily activities we wanted to start with a small B&B ('Hotel Garni') because we wanted our guests to be able to enjoy our special region in which we've builded the site. We hope you will like your stay with us in our quite large and confortable apartments. In the morning we serve you breakfast in our large breakfast lounge.
We are living in this region for several years now. Bunde is a small German village which is situated between Bad Nieuweschans with its well-know wellness-bath and Leer, renowned for its beautiful 'Altstadt'. Bunde is just several meters away from the connecting A31 motorway, but also just several steps away from the nice and quiet 'polder' which invites you to walk and cycle around. Several fishing-villages are nearby!
Near 'Am Lindenhof' Bunde are many touristical visits possible. Each year around 3/4 Million people visit them. We have some of these 'must-see' places mentioned on our website. Discover them yourself or have us inform you about them.
We hope we soon can welcome you in our Bed & Breakfast!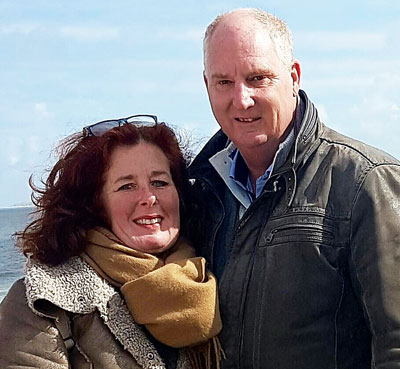 Bert and Sjoerdtje Hut